Brands: The importance of continued marketing investment
Many consumers are making cutbacks, and spending more cautiously amid the cost-of-living crisis.  Data suggests that when it comes to product purchases, consumers are often seeing this as an opportunity to spend less, with 80% of categories seeing consumers trading down.  (Kantar The Cost of Living Crisis: 8 Behavioural Truths)
As a brand, increasing your marketing spend may seem counterintuitive in times of uncertainty, but now could be the worst time to pull back on your marketing efforts.
As Jan Hales of Sapio Research in Digital Marketing Briefing said:
"Companies that cut their marketing budgets due to recession not only make it harder to retain customers but also to bring back new and existing customers once economic growth returns."
Time and time again, periods of recession have proven that businesses who continue to invest in marketing come out on top.
According to HBR, in 2008, Reckitt Benckiser focused on marketing it's more expensive brands instead of lowering prices, investing an extra 25% in the company's marketing activities.  This delivered an 8% increase in revenue and a 14% increase in profits.  Meanwhile, the company's competitors reported 10% lower profits. 
Insights agency, Kantar, points to similar behaviour in the 'Kantar Inflation Nation Special,' encouraging brands to reframe their value away from price, and focus on recruiting new shoppers and driving new occasions.
Hospitality : Consumers are placing a value on experience
As consumers continue to change their approach to spending in response to the cost of living crisis, the hospitality sector is one industry that is set to feel the damage more than most. 
However, during challenging economic times, consumers are more likely to value experiences. 
Research from Squire Patton Boggs shows consumers are more likely to cut back on material goods than experiences such as dining out and visiting pubs, theatres, or cinemas.  This preference for experiences over material goods presents a lucrative opportunity for hospitality, which can be enhanced with the right marketing strategy. 
However, as the demand for out of home occasions grows, the level of expectation has too.  If consumers do not perceive an experience to provide value for money, they will not part with their money.
More so, these rising expectations come at a time when hospitality businesses themselves are in crisis.  Operator focus is likely on balancing the books, resolving staff shortages, and mitigating rising costs, rather than investing into enhancing customer experience. 
Brands in this field can support hospitality businesses by driving increased footfall and sales, to mutual gain.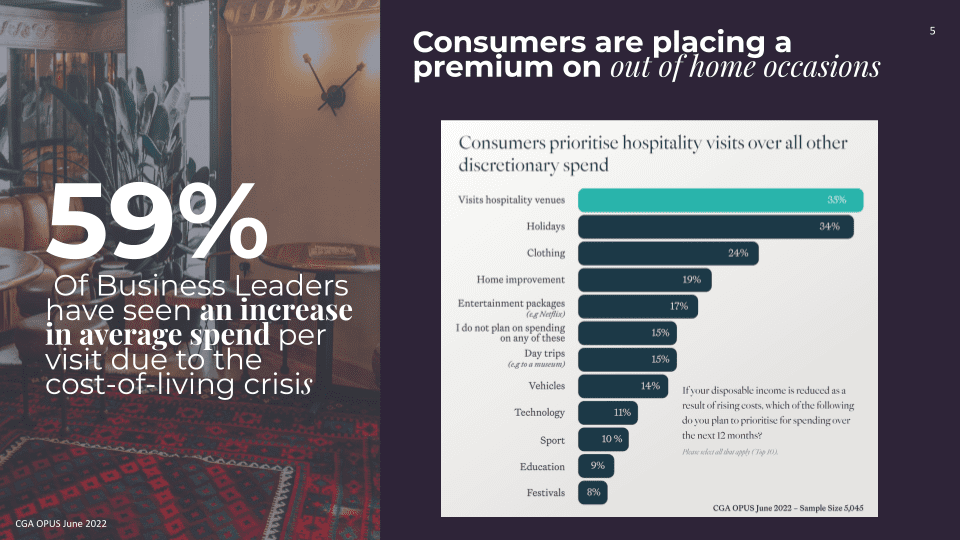 Food & Beverage Brands: Let's drive value to the hospitality sector
While such an approach to customer marketing can enhance operations across many sectors, food & beverage brands are among the best beneficiaries as they are perfectly positioned to celebrate the reframed value and emphasis on experiences.
In particular, drinks brands often have a readily available portfolio of experiential assets that can help venues to deliver winning out of home occasions.
However, success for both brands and outlets can only occur when these kinds of brand activations and experiences are completed efficiently and effectively.
The traditional ways of working when it comes to brand execution are often prone to errors, lacking in data, and hindered by resource heavy manual procedures.  These factors can make investment into this space counterproductive, particularly in this climate when resources are scarce.
How we can help
Experience This is a B2B brand execution platform that can transform the way that brands and hospitality venues handle branded events and experiences to drive value to visitors.
The customisable SaaS technology can be tailored to automate complicated execution workflows, ultimately making it easy to execute footfall and sales driving brand activity. 
It helps brands to automate multi-agency experiential marketing campaigns, connect their sales & marketing teams with their B2B customers, and handle seamless bookings for new activations.
Most importantly, the data-driven platform tracks a range of KPIs, with the option to review and approve investment decisions based on the forecasted return. This enables brands to control their spend, giving them confidence to invest in this space.
Post analysis information is then presented in a visual way, helping to identify strong performances and areas of improvement ongoing. Brands can build up a database of centralised learnings on where, who and how to invest ongoing.
By working together, drinks brands and hospitality venues can use brand activations to keep things fresh and ultimately increase average consumer spending.